CONTORTED WAS FORMED IN TAMPA,FL U.S.A. IN 1997
CONTORTED PLAYS EXTREME, BRUTAL
DEATH-METAL MUSIC MIXED WITH
INFLUENCES FROM ALL TYPES OF MUSIC.
CONTORTED
DEMIAN HEFTEL-GUITARS
PETE SYKES-GUITARS,VOCALS
JAMES COKER-DRUMS
ED WEBB-BASS,VOCALS

CONTORTED'S 5-SONG DEMO
ENTITLED " AFTERMATH" (2003)
CONTORTED has begun recording their debut full-length CD entitled: ..OF WORDLY SINS for STILL DEAD PRODUCTIONS OF POLAND!!

THE CD WILL BE RECORDED IN MARCH 2004
IN ST.PETE, FL AT:
DEG STUDIOS AND WILL BE ENGINEERED
BY DANA WALSH AND WILL
FEATURE 11 TRACKS OF PURE MAYHEM!!
THE CD WILL BE MASTERED AT MORRISOUND STUDIOS IN TAMPA,FL!!

...OF WORLDLY SINS
1.AFTERMATH 7.EDGE OF DARKNESS
2.ETHNIC CLEANSING 8.ENGRAVED
3.CARNAGE OF WITHERED REMAINS 4.EVISCERATED 9.FALL OF MAN
5.NOSTRADAMUS 10.HELLISH MISCREANT
6.REAWAKENING THE PESTILENCE 11.FACELESS COWARD
E-MAIL: CONTORTED@MSN.COM
MORE INFO COMING SOON!!!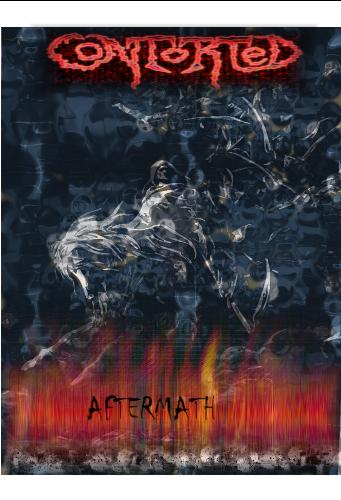 IN OTHER NEWS:
CONTORTED HAS BEEN FEATURED IN AN UPCOMING MOVIE ENTITLED "THE ESSENCE OF IRWIN" PRODUCED BY DOWNRIGHT SWELL PRODUCTIONS.
EXECUTIVE PRODUCER: DARRIN MCDANIELS
THE SCENES WITH CONTORTED WERE FILMED ON NOV. 8, 2003 IN WILDWOOD, FL
LOOK FOR THE MOVIE TO BE RELEASED IN 2004!!